We are Qlik Master Resellers for Romania, with experience in implementing QlikView in all businesses, large or small, operating in various sectors. Plaut has teamed up with technology provider Qlik to help business users take advantage of the wealth of information within their company, to understand and drive better business, to provide solutions built with technology of each specific business. Plaut supports organizations to structure their data so that the basis for business decisions is provided in real time, and organizational performance can be optimized quickly. Companies will greatly benefit from QlikView's ability to offer real business insight and Plaut's long experience in Management and ERP.
QlikView makes BI better for everybody
With QlikView, Business Users Can:
Uncover hidden trends and make discoveries that drive innovative decisions
Ask questions and pursue insights on your own or collaboratively — on the fly, on the road
Search across all your data to get the big picture—just type any word or phrase, in any order, into the QlikView search box for instant, associative results that let you see new connections and relationships across your data
Benefit from self-service BI with no need to go back to IT or business analysts for new queries or reports
With QlikView, IT Professionals Can:
Consolidate data from multiple sources to deliver a complete data picture to business users
Remain focused on data security, data and application provisioning, data governance, and system maintenance
Take writing and rewriting reports, tweaking queries, and building cubes off your already full plate
Administer easily through QlikView's web-based management console. It's a unified way to provide everyone access to the latest data and analysis, with role-based administration to ensure data access to only those who have permissions.
Gain visibility into data lineage and use across your QlikView deployment
With QlikView, BI Pros/Developers Can:
Easily create and manage data definitions, transformations, and business logic, and reuse them across QlikView apps
Quickly and iteratively design Business Discovery apps
Create and manipulate a wide variety of visualizations—and change them on the fly
Create extensions using QlikView Workbench (a Microsoft Visual Studio® plug-in)
Integrate with enterprise portals and collaboration sites using QlikView web parts for use with Microsoft SharePoint®
Connect directly to popular business applications and data sources, including Salesforce.com, SAP NetWeaver®, Informatica, Teradata, Hadoop and Google BigQuery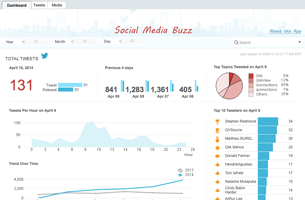 QlikView Demo : Social Media Buzz
Explore an interactive QlikView app. In this demo, you can see what people were tweeting about, follow hashtags and sentiments and find the top tweeters during Qonnections 2014.
Data used in this application was provided by QVSource's QlikView Twitter connector.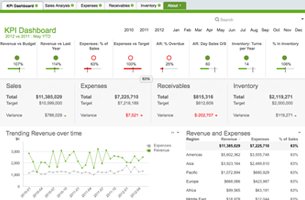 QlikView Dashboard demo
This business analysis model is for senior managers to monitor performance within their business, giving them both a high level view as well as the ability to drill down into the granular details of the business. In this example, the organization manufactures fast moving consumables, using a reseller model to distribute its products across multiple regions.